#1 Hotel in Fort McMurray
The eco-friendly Best Western PLUS Sawridge Suites is designed for short or long-term stay guests. Kitchenettes, underground parking, meeting space and fitness centre are just a few hotel highlights. Its close proximity to the oil sands and short drive to downtown make this the best choice for Fort McMurray business travelers. You'll also find an open concept dining and lounge that'll leave you and your taste buds happy. Travelling with your four legged family members? That's no problem either as Best Western PLUS Sawridge Suites welcomes all very important pets!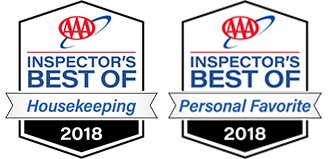 We are extremely proud of our Team.  After receiving notice from AAA on their recent on-site inspection, The Best Western Plus Sawridge Suites was given two official designations.  We are thrilled that the Inspector awarded us with the Personal Favorite Hotel Award and also with the Best of Housekeeping Hotel Award.